Mirai no Mori Program
The Mirai no Mori program is designed to equip children with "Essential Life Skills" that they require when they become independent and that enable them to choose and create their own path for the future. The program creates learning experiences for children through new environments, methods, people, and ideas, and provides opportunities for them to rediscover and redefine themselves.
Essential Life Skills
When children become independent and live completely on their own at age of 18, as they graduate from high school, their daily lives change significantly and suddenly from the protected life at homes. In their new daily life, they will face many new problems and challenges that they have never faced before. The "life skill" is the ability to think and act on their own, and to come up with solution to overcome these problems and challenges.
It is not possible for us to be with every child when a problem occurs or provide them with solution to every problem they might encounter. Therefore, it is important, to gain the life skills while they are still under care so that when they become independent, they have the tools and knowledge to solve their problems and overcome their challenges, leading to a happier life. This ability is especially important to these children, since they will have a very limited access to support and resources, once they graduate.
The importance of life skills is recognized internationally, and the definitions and the examples resonate strongly with ours.
"Life skills are abilities for adaptive and positive behavior that enable individuals to deal effectively with the demands and challenges of everyday life."(Life Skills Education for Children and Adolescents in Schools, World Health Organization;1997)
Generic life skills
Cognitive – critical thinking and problem-solving skills for responsible decision making
Personal – skills for awareness and drive and for self-management
Interpersonal – skills for communication, negotiation, cooperation and teamwork, and for inclusion, empathy and advocacy.
(Life Skills Learning and Teaching: Principles, concepts and standards, UNICEF; 2010)
 Program Concept
Experiential Learning
The children acquire skills and knowledge through their own experience. They are exposed to new environments, methods, people, and ideas, and learn how to understand and organize their surroundings in their own way. Through their experiences, the children can acquire knowledge and absorb ways of thinking that could not be conveyed in words or theories. We also maintain a supportive environment so that when they fail, they can learn from it and try again.
Continuous
We have programs every month, as well as every year, to which children can come back. Repeating participants can continue their learning based on the experiences they had in the previous programs. In addition, children who come back to the programs feel secure in the familiar environment, and are more likely to push themselves and try activities that they normally would not. We also have a curriculum built into our program to suit different ages and levels, so there is always something new and children can learn at their own speed.
 

Camp Magic
At the camps, the children show sides of themselves that they have never shown in their daily lives, which even surprises their care workers. They may help in the kitchen, eat their food without any fuss, speak in front of people, or complete an 8-km hike on their own without complaint; these are abilities that children only started to show at the camp. At Mirai no Mori, we refer to this as "Camp Magic", and we value this very highly in our programs. "Camp Magic" signifies that the children are stepping out of their usual self and demonstrating their own ability and potential. One of our continuous challenges is to create ways that children can take this magic back to their daily lives.
Three Tools
Mirai no Mori programs use three principal tools for the children to enjoy themselves while learning in their own way and at their own speed.
Outdoors
Nature provides a stage without discrimination or prejudice, where children can learn to think and act on their own, and be responsible for themselves. They can also learn to consider their surroundings and set targets so that they can reach the goals on their own.
Diversity
Children are exposed to new ideas and ways of thinking by interacting with people of diverse backgrounds, cultures, and languages. They can further broaden their views and rediscover themselves by applying new ideas. They can also learn new ways to express themselves by communicating with people who don't share the same "common sense".
Role Models
By interacting with adults with a variety of backgrounds, jobs, and life styles, the children gain an awareness of options for their future, and can learn a variety of ways for reaching their goals.
5-Values
Mirai no Mori prizes the following five values: Kindness, Respect, Leadership, Responsibility and Courage. Everyone participating in the camp is asked to keep these values in mind. We aim to instill these values in the campers so that they will continue to reflect on them even at their homes after the camp.
KINDNESS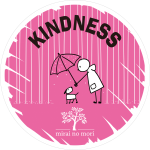 Being kind and compassionate to others means learning how to recognize what others are thinking and feeling, and what they desire. And by being considerate to others, it allows children to realize how others are being considerate to them.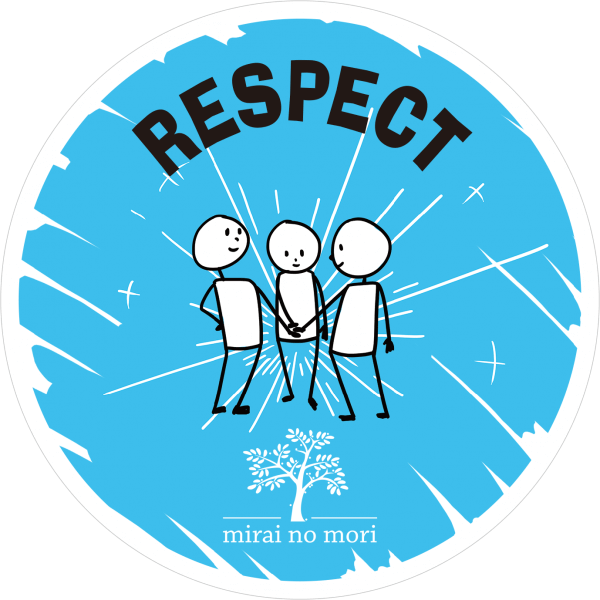 RESPECT
Having values, opinions, ideals, methods, etc. that are different from what you have does not mean they are wrong. By understanding that there are various ways to look at the world and respecting them, the children learn how to manage and navigate through the differences.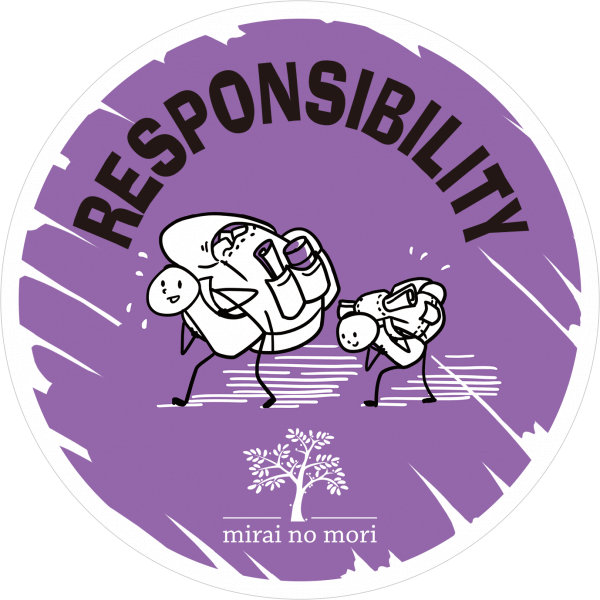 RESPONSIBILITY
Children learn to be responsible for not just their belongings, but for their words and behavior. Taking responsibility for their actions can also teach them the importance of thinking ahead and being prepared.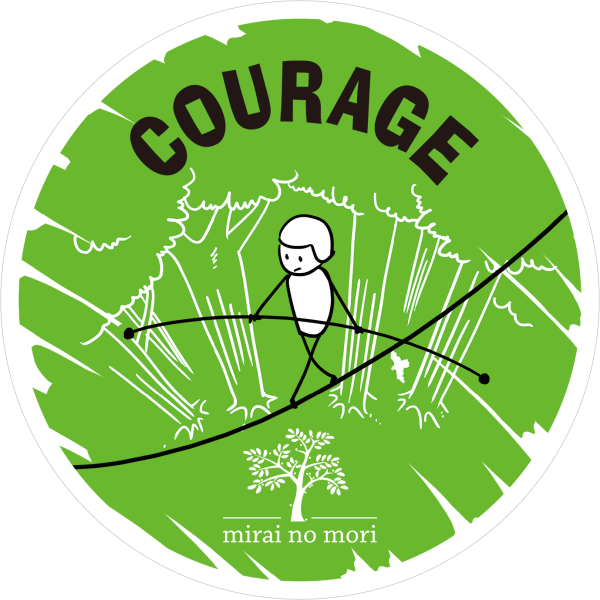 COURAGE
Different children faces different types of fear, such as talking in front of people, traveling on their own, or jumping off into a waterfall. By having courage to face their fear and try new things allow them to overcome their weak points, rediscover themselves, and open new possibilities.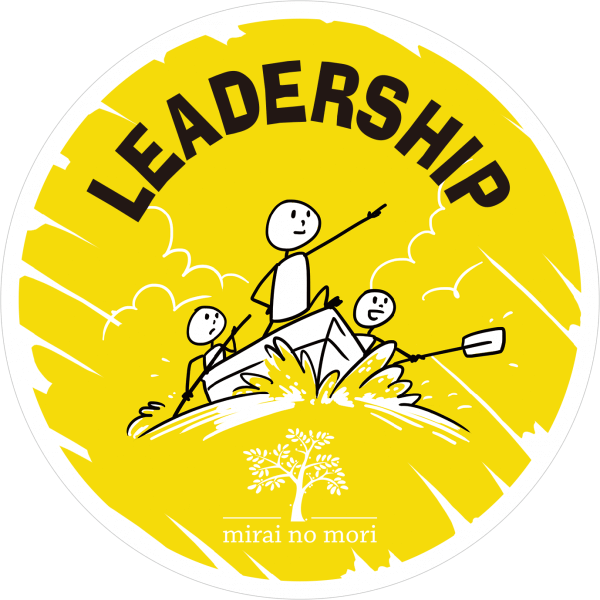 LEADERSHIP
Being a leader teaches them how to set and plan to reach their goals, allowing them to obtain skills to create and follow their own path. It also strengthens their communication skills by bringing people and different opinions together.
Annual Programs
Throughout the year Mirai no Mori stages both long-stay residential programs, which are designed to bring out the children's maximum potential, and one-day programs that are intended to build on these results and take the children on to the next step.
Residential Camps
Summer Camp
This program is our longest residential camp, consisting of five days and four nights in the great outdoors. Because of its length, this is also our most effective program. The children engage in a variety of fun outdoor activities, such as camping, hiking, outdoor cooking, and stream walking. As the children start to trust the staff and form new friendships with their fellow campers, they become more comfortable and secure. As a result, they are able to take on challenges that they normally would not or could not on the first day. The summer camp is full of "Camp Magic". It is also the program where repeating campers can shine the most by teaching or serving as role models for first-time campers.
Winter Camp
This program is a four-day, three-night residential camp focused on activities in the snow. The beautiful, but sometimes harsh, winter is full of new experiences and learning opportunities for the campers. As the children learn how to use the specialized winter gear and equipment and manage it on their own, they learn to be self-reliant and responsible. They also need to share the gear and equipment, as well as the space, with other campers, thus learning how to communicate and get along well with others.
Back to Nature Programs
The monthly Back to Nature programs consist of various themes and activities, including hiking, forestry experiences, and rafting. By attending our programs regularly, children can reinforce what they have learnt at the residential camps, and apply the learnings in their daily lives. We also ask volunteers from sponsoring companies, who have diverse backgrounds, to join the programs as role models. This, combined with themes like Easter and Halloween, allows children to come in contact with a variety of cultures and values, opening up their world even further.
Leader in Training Program
This is a year-long program for high school-age children, consisting of leadership-oriented activities and workshops that focus on "independence". Participants act as leaders in other Mirai no Mori programs, and acquire knowledge and skills, as well as ways of thinking, that are necessary to live confidently after they leave care homes. Participants also learn about skills that are directly related to leading an independent life, such as project management and public speaking.
Our Impact
We have over 1,500 campers participated in our programs, so far. And each of them have gained new experiences and grown in their own ways, thanks to our sponsors, volunteers, program staff, and care workers. Please see Our Impact page for more.