#SHARING DECEMBER 2020
The end of the year is the time when we celebrate our achievements with our community of supporters. This year, instead of our usual Winter Party, we will be holding "Sharing December", a month-long, online celebration, fundraising, and awareness raising event. Throughout the month, we will be sharing with you the "voices" of our program participants, including the care workers, program staff, and former campers. You can hear directly how much impact Mirai no Mori and its programs had on them and on the children we serve. And we will conclude the event with live streaming, featuring former program participants. Stay tuned for more exciting details to come!
Please join us in Sharing December to celebrate what we have achieved together, and to continue the support for the children.
Dates: Tuesday, December 1 through Thursday, December 31
Participation methods: (more to be added soon!)
Support us quick and easy
Support us in fun and delicious ways
Enjoy Charity Menus at our restaurant and cafe partners
Join in our charity auction for exclusive items
Support us by watching our videos and join our online event
Watch our videos and share with your friends and family
Support us continuously
Join our 100+ monthly supporter campaign >> Sign up now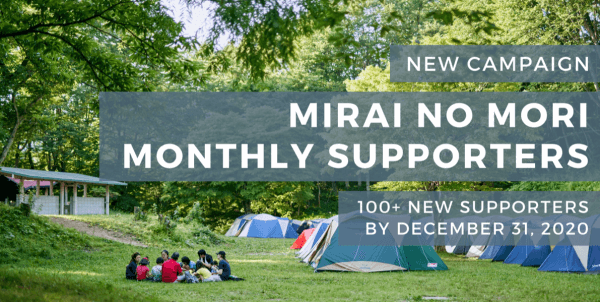 ⭐️ JOIN KEEN Live Streaming Viewing event

Join us online to watch live streaming with your friends. You will have a chance to talk to the guests after the show.
Date and Time: Tuesday, December 22nd, 6 pm-8 pm
Fee: Free
Format: Remo
*Remo is a virtual event venue and networking platform. Good chance to catch up to an old friend or meet a new one!
*Joining us on Remo requires pre-registration. Please register through this form.
Live Show
DJ Ishikawa will be talking to Jeff, the vice-chair, and Kozue, the executive director, about the Mirai no Mori activities this year. He will also welcome special guests to talk to them about their experience and involvement with Mirai no Mori.

Special Guests
Tomoya is a Mirai no Mori graduate, and the documentary film's focus, "My Invincible Compass" by Matt Miller. He will be talking to us about how he decided to be the "voices" for the children.

Naoji Takeda, KEEN Japan General Manager, will be talking to us about KEEN's involvement, as well as his involvement with Mirai no Mori.

Marin Minamiya, a Mirai no Mori Ambassador, will be joining us to talk about her collaboration for creating a new charity t-shirt.

There will also be a drawing for special prizes for the participants during the event.

*You can also view the Live Show on Youtube at the same time. (It will be on KEEN YouTube channel.)
🎥 WATCH "Voices" video series 
We have asked program participants about Mirai no Mori and its impact, and throughout December, we will be sharing the videos so that you could hear their "voices" directly.
In order to create the unique Mirai no Mori environment, it is essential to have program staff with diverse backgrounds, cultures, and languages. Positive interactions with the staff broaden the children's horizons and provide special learning opportunities. We asked repeating camp staff about Mirai no Mori and why they continue to be involved. Please watch the video from HERE.
The care workers spend the time with the children the most and have the utmost interest in children's growth and development, and for their success after they leave their homes. We have many children and care workers that continue to come back and join Mirai no Mori programs over the years. We asked them what Mirai no Mori means to them and to the children. Please watch the video from HERE.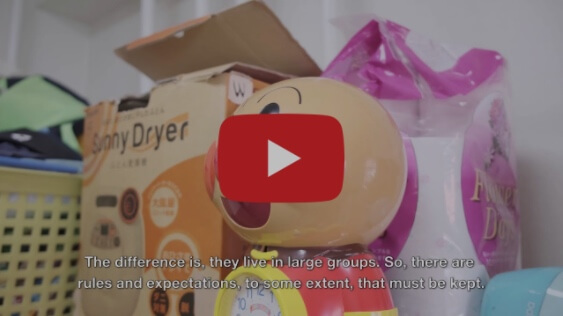 Since our start of Leader in Training program in 2017, eight participants have graduated from high school and started living independently. We asked some of them to look back on their Mirai no Mori experiences and the plan for their future. Please watch the video from HERE.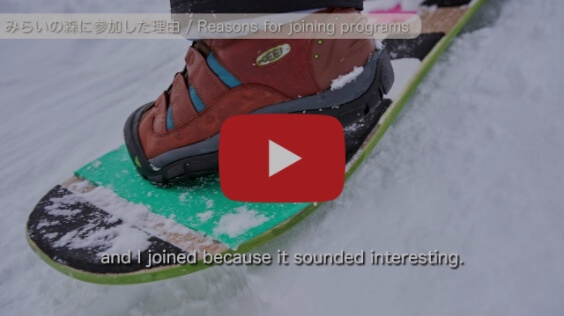 👕 PURCHASE KEEN Charity T-shirts!
KEEN has been a dedicated supporter for a log time, and we have decided to launch a second line of T-shirts with an all-new design.
That being said, our first line is almost out of inventory! Colors and sizes are limited, so grab yours while you can. >>
Charity T-shirts available for purchase from KEEN's website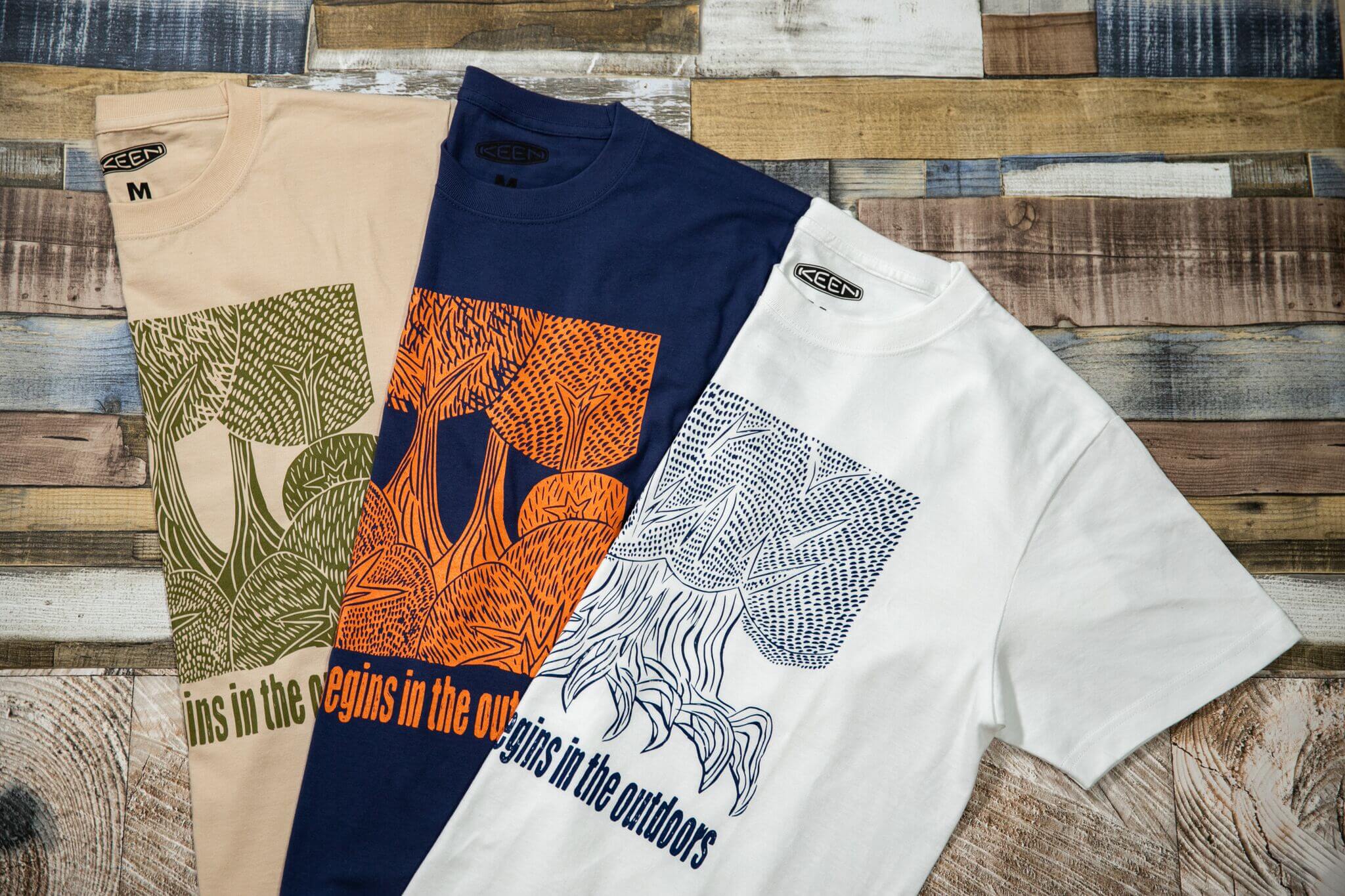 This first line was designed by KEEN ambassador, wood carver, and Nihon University art professor Mr. Kurakake in 2018. His design was inspired by Mirai no Mori's tagline, "Change begins in the outdoors." The concept represents the "mirai (future)" itself, depicting two trees from the Mirai no Mori logo. The first large tree grows strongly with its roots firmly in the earth, and the second grows among fellow trees of the forest.
Our second line will be designed by two of our supporters: Marin Minamiya, Mirai no Mori ambassador and Explorers Grand Slam record holder for youngest participant, and the illustrator, essayist/manga artist, and camp coordinator Yuuka Koishi.
Further details coming soon!
🎁 Support through the Charity Auction

4 premium listings donated by the supporters of Mirai no Mori will be put up for auctions. All sales from these auctions will be donated to Mirai no Mori. Enjoy our diverse and unique listings!

【Item details and listing dates】
Antique Japanese Painting – Chrysanthemum (12/3-12/6)
As seen on the Japanese Imperial crest, chrysanthemum flower is a popular flower in Japan with great symbolism. This beautiful painting is an antique Japanese painting of chrysanthemum.
Antique Japanese Painting – The tail of Genji (12/10-12/12)
This pair of antique Japanese paintings illustrate the "The Tale of Genji". Written in the early 11th century by Murasaki Shikibu, noblewoman and lady-in-waiting, The Tale of Genji is a masterpiece of Japanese literature and is generally considered the world's first novel.
Signed Olympics Items (12/17-12/19)
A set of limited items from the Olympics. The 4 items are donated and signed by Hiroaki Hiraoka, the Judo silver medalist at the 2012 London Olympics.
Signed Documentary Poster (12/20~12/22)
A film poster signed by a model and actress Sahel Rosa. Rosa narrates the documentary film "My Invincible Compass" directed by our ambassador Matt Miller and sponsored by KEEN Japan.
🍴 ENJOY Charity Menus: The tastiest way to do social-good!

What better opportunity to try our partners' tasty menus! These businesses have joined our mission of supporting the children and throughout December, your Charity Menu order will support Mirai no Mori!
Also, to show our gratitude for your participation, this campaign comes with an SNS giveaway. From Dec 1st – 22nd, post a photo of you and your charity order on SNS for
a chance to win a 100% off coupon for KEEN Japan products!
5 winners will be selected at random!
Stay tuned to Mirai no Mori Facebook page for giveaway details!
Partnered Business:
Cafe monaca Cakes&Cookies (Mitake, Tokyo: 2 minutes walk from Mitake Station on the JR Ome Line)
One of the main program sites for Mirai no Mori is the Mitake area. The beautiful nature along the Tama river became a very important place for the children. Located in Mitake, Cafe monaca has been a supporter of Mirai no Mori since 2016, providing the children with delicious lunch since the program's beginning. Their curry lunch is now a crucial part of the most popular activity and a tradition, summer river rafting! Cafe monaca has become the taste of comfort for the children, so much so that our LIT program graduate even asked for the recipe for their curry!
Cafe monaca generously offered their partnership for this campaign, in addition to the ongoing support for the usual programs. Their menu, in tune with the seasons and made with quality ingredients, along with the amazing staff will bring a smile to your face and warm your heart. Enjoy the charity menu!
▼How to enter the Charity Menu SNS giveaway
Between Dec 1 to 22nd, order a charity menu from cafe monaca and post the picture of your order on SNS. 5 lucky people will win the 100% off coupon for KEEN Japan products. See below for more details on how to enter!
1. Tag a friend in the comments of this post to share the holiday cheer! ( don't forget to use @ to tag a friend)
2.
Like Mirai no Mori Facebook Page
3.
Like cafe monaca Facebook Page
4. Post a picture of your charity order on an SNS platform of choice with the hashtag
#MMSHARINGDECEMBER
    *SNS: Facebook, Twitter, Instagram, story post or normal post
    *hashtag must be included or we may miss your entry! 
The lucky winners will be announced on the night of 22nd, in the campaign finale live show!
🎄 KEEN Secret Charity Sale

Exclusive to Mirai no Mori supporters! KEEN Secret Charity sale takes place online from December 16th to 23rd. The coupon code will be shared via e-newsletter, so sign up now!
Our Sponsors and Partners
🌟  Special Sponsor:
🎥  Video partners:
🍴 Charity Menu partners:
🎁  Charity Auction item donors:
🎄  Christmas Gifts partners: